I have been quiet for quite a spell. The last time I wrote was to remember the Memorial Service/Jam Session for Doc Tenney. Since then, others have gone. Especially notable for us: Mose Allison; Mose had a wonderful sense of humor and we frequently play some of his songs toward the end of an evening.
And Rusty Jones. Rusty was a friend and musical colleague of Eddie Piccard's from the beginning. Later in his career, he played with many well-known stars of the jazz world. Among them: George Shearing, Marian McPartland. His great uncle was Isham Jones, bandleader and composer of "It Had To Be You," "There Is No Greater Love," and several others.
We played several gigs with Rusty, most noticeably our annual appearance at the Jazz Vespers in the Chicago area.
Still, the music goes on and we had a swinging end of the year. In August the Eddie Piccard Quintet appeared at the KCCK-sponsored Jazz Under the Stars concert. That was a very special kick for me because we played Lionel Hampton's "Flying Home"–and my solo was filmed. Yes, I grew up listening to Hamp and to Illinois Jacquet. Just click below on IMG 0120.
We played some private parties, and then KCCK invited us to appear at their First Friday in Jazz series at the Opus Café in Cedar Rapids in early November. The music was a joy and there was a special bonus for me. One of my students from many years ago was there–Jan Sellen (her name back then). I still remember the first paper I got from her.
About a week later Eddie appeared as a Guest Star with both combo and the big band from Kirkwood Community College – all under the direction of Joe Perea.  I attended that concert and it was a solid performance.  I take personal delight in hearing a bunch of young people playing a Basie chart and understanding what it means to swing.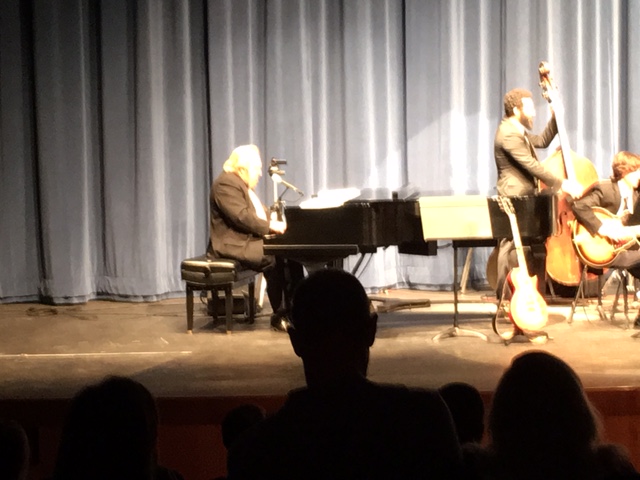 We miss the ones who have gone, but they are part of the music we play. And the beat goes on.
And we had another event in November–a concert in Mount Vernon. This frolic combined the Eddie Piccard Quintet and the Busch Boys.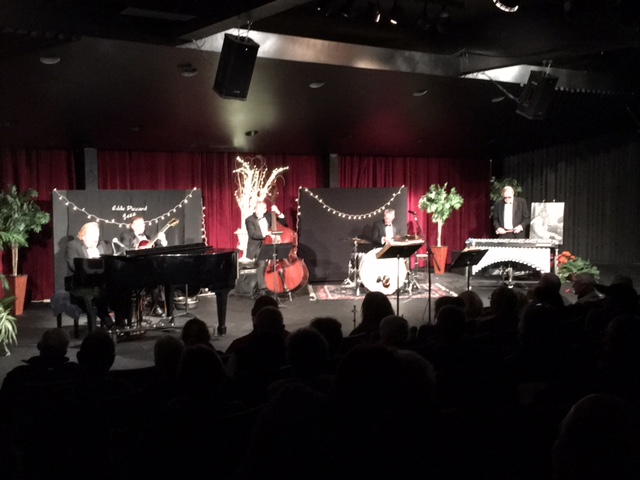 And more big news–we are going to do another concert with the same personnel. More in just a few days.